Ductless Air System | Ductless Heating & Air System
"Look, Ma, No Ducts!"
If you dread the arrival of summer because your home can't support duct work for central air conditioning, stop dreading and call Nero.  Why?  To hear the good news about ductless systems.
Ductless heating and air conditioning systems were designed to give you added flexibility to enjoy the very best in year-round indoor comfort. No duct work?  No problem, because with a ductless system, you don't need it.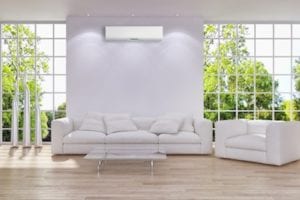 Instead, outside condensing units are connected to wall-mounted blowers that distribute the warm or cool air, depending on the season.  Each condensing unit can support up to five such blowers.  Plus, ductless systems can be designed and installed for several different purposes:
A new addition
A downstairs room or attic that your current heating and cooling systems can't easily reach or accommodate
To heat and cool any part of your home or, for that matter, your entire home
Here's what else you can look forward to with a new ductless system:
No noise
Remote control operation
Seamless integration of the wall blowers with your existing décor
Quick turnaround from purchase to installation
Greatly reduced energy bills from improved energy efficiency over conventional central and forced air heating systems
Greater ease of maintenance, too
Is a new ductless air system right for you? Let's find out together!  Contact Nero Air Conditioning & Heating today and ask for a free in-home comfort evaluation and new system proposal.
Save