Heat Pump | Heat Pump Installation
There's No Comfort Like Heat Pump Comfort.
Sometimes less is better.  That is certainly the case when it comes to heating and cooling your home with one vs. two indoor comfort systems.
At Nero, we design and install the two basic types of heat pumps systems:  air source and ground source.  Here's a look at each:
Air Source Heat Pump
To the casual observer, an air source heat pump looks like a central air conditioning system, both inside and out.  It has an outdoor condensing unit that connects to an indoor air handler.  The latter distributes the conditioned air to and through your air ducts for the best in seasonal comfort.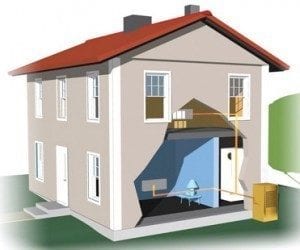 It's one system that replaces two, and that means greater energy efficiency and ease of maintenance.
During the cold weather months, an air source heat pump pulls heat from the air around it and directs it indoors to keep you warm and cozy. Here in Connecticut, air source heat pumps usually have a back-up gas heating system.
During the summer months, the system acts in reverse:  it re-directs indoor heat outdoors so you stay cool with low relative humidity.
According to the Energy Star website, today's air source heat pumps are "20-50% more efficient then what you may have in your home."
How much you can expect to save on your energy bills depends on several factors, such as size, layout, window placement, SEER rating, how well your heat pump is installed, and more.  On average, air source heat pumps deliver one-and-a-half to three times more heat energy to a home than the electrical energy it consumes. And that adds up to significant annual energy savings when you entrust your home comfort needs to Nero.
Ground Source Heat Pump | Geothermal Heat Pump
If top level energy savings is your ultimate goal, you'll want to take an up-close look at a geothermal heat pump.  It operates on the same principles as an air source system, but instead of drawing heat from outdoor air, it gets all it needs underground where temperatures remain relatively constant throughout the year.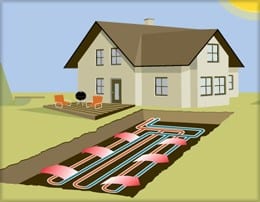 Geothermal heating and cooling systems also employ an underground piping system known as a "loop."   Water circulates in the loop to exchange heat between your home, the ground source heat pump, and the earth, providing geothermal heating, cooling, and hot water at remarkably high efficiencies.
According to Energize Connecticut, you can expect annual energy savings of 20 to 70 percent when you switch from separate heating and cooling systems to a geothermal heat pump.  We can install a system that will provide for all your hot water needs, too, and that adds up to even greater energy savings.
Confused by all your heating and cooling options?  Don't be.  A Nero home comfort specialist is on hand to explain each one and help you choose what's best for you and your budget.  After all, that's one of the many things we're known for.
Save