From improving indoor air quality to bringing added beauty into your home on even the dreariest of days, there are countless benefits to adorning your home with bright and lively plants. While keeping them blooming and beautiful can sometimes be a struggle, you won't have that problem with any of these six hardy, natural air-cleaning varieties: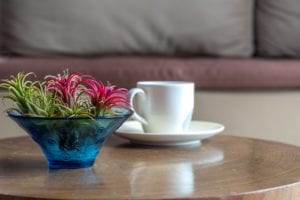 Bromeliad – Rich in color and texture, bromeliads require very little maintenance, needing minimal watering and medium to direct sunlight. They have very intricate details that give them an exotic appearance. Although a bromeliad dies back once it flowers, its pups can be removed and replanted, so you can continue to enjoy this fun floral over and over again.
Kalanchoe – A native of Madagascar, Kalanchoe is actually a succulent and requires little water and low humidity to thrive – perfect for the cold, dry-air months ahead. Its cheerful flower clusters last several months, and come in a variety of colors such as pink, red, yellow, and orange.
Amaryllis – Amaryllis blooms in winter, making it a very popular holiday gift. Its bulbs are nearly foolproof so you can pretty much guarantee that with a little light and regular watering, this festive flower will continue to brighten your home with colorful blooms.
Hibiscus – While it needs a bit more upkeep during the summer, its winter care is quite simple. Just water when the soil feels dry to the touch. If you wish, you can also pinch the flowering stems back so that they will produce more flowers.
Orchid – The elegant Orchid is a very popular houseplant that is surprisingly easy to care for. It requires watering only once a week to reward its owner with delightful blooms. However, some varieties are more difficult to grow than others, so do your homework before picking one.
Christmas Cactus – Unassuming in appearance throughout most of the year, the Christmas cactus springs to life in December when it reveals its brilliant pink, red, white, orange, and purple blooms. It requires minimal watering and bright, indirect sunlight. As a bonus, its cuttings can be transferred and replanted, allowing you to share the holiday cheer with family and friends.
Now, how exactly do these and other types of houseplants help remove pollutants from your indoor air?  They actually feed on the very airborne bacteria that can and often does cause people so much trouble, especially during the winter months when we spend more time indoors with windows and doors shut.
Here at Nero, we provide whole-house solutions for year-round improved indoor air quality. Contact us today to learn more about what a dehumidifier, air filter, UV lamps, and other solutions can do for you.