When was the last time you refilled your first aid kit? If your answer is along the lines of "Where IS our first aid kit?", it's probably been a while.
To prevent getting caught off guard in an emergency, a well-stocked and maintained kit is a must. So is keeping your supplies well organized for quick and easy access.  If you have older children at home, teach them how to use the first aid kit should they be home alone in the event of an injury or need to assist you. If you haven't already, take a first aid and CPR course, especially if you're living with elderly relatives or young children.'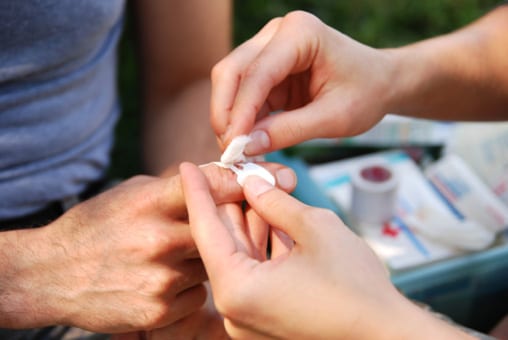 Where to Store Your Kit
Keep your supplies in a sturdy container that has enough room for everything. Store the kit in a central location, but high enough off the floor so young hands can't reach it.
What Your Kit Should Include
First Aid Booklet
Non-Latex Gloves
Hydrogen Peroxide
Assorted Size Bandages
Roller Bandages
Cloth Tape
Absorbent Compresses
Antibiotic Ointment
Instant Cold Compress
Gauze Pads
Antiseptic Wipes
Scissors
Tweezers
Thermometer
Hydrocortisone Ointment
Kit Maintenance: Inspect your first id kit every six months and properly dispose of any expired items. Replenish any items that are running low or have expired.
Supplemental Kits: Consider putting a few supplemental kits together specific to your needs. For example, if you have small children, you may want to keep one near an outside entrance for prompt treatment bumps and bruises. A car kit can help should you become injured while out and about. And if you have four-legged friends, a pet kit can be the perfect antidote for their minor ailments.
At Nero Air Conditioning and Heating, we think of your home comfort systems as first aid items too.  That's because they provide more than cool and warm air.  They help provide for your family's safety and can work wonders in cleaning up your indoor air.  For more information or a free in-home consultation, contact us today.