Programmable Thermostats | Whole-House Zone Control
How to Enjoy Added Comfort, Flexibility, and Savings.
If your heating and cooling systems are controlled from a single thermostat, you could be stuck with high energy bills. Or, perhaps you're denying yourself a certain amount of cool or warm air just to keep your costs down.
Now, Nero offers you two convenient ways to enjoy the best of both worlds:  maximum indoor comfort AND reduced energy costs. 
Whole-House Zone Control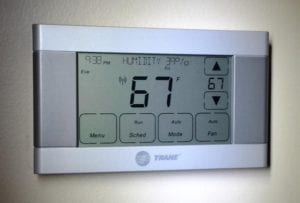 Dividing your interior into two or more zones vs. one is a fast and convenient way to enjoy all the conditioned air you want while reducing your energy costs by not overly heating or cooling unoccupied rooms.  Things change, after all.  Small children get a little older and go to school…that means they're not home all day, wandering freely from room to room.  When they get a little older still, they go off to college and ultimately live on their own.  And when all of that happens, it's within your power to reduce your energy costs, one life change at a time.
Programmable Thermostats
For even greater savings and comfort flexibility, consider replacing your older thermostats with new programmable models, especially those that are Wi-Fi equipped.  Once you download the free app to your Smart Phone, you can control and adjust each thermostat wherever you might be, provided you have Wi-Fi access.  That way, if your plans change, you can alter your thermostat settings accordingly.  No comfort lost.  No extra energy expense incurred.  Isn't that how it should be?
To learn more about how to increase your home comfort levels while decreasing your utility costs, contact Nero AC & Heating today.
Save