Ductless air systems (also known as mini-splits) are ideal for Connecticut homes that don't have air ducts, or where it's impractical to install them.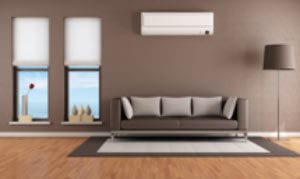 But forget the ducts, because now you enjoy all the benefits of "central air conditioning" with a ductless air system that also can supply your home with heat.
Your system includes one or more outdoor condensing units.
Each condensing unit connects to one or more indoor wall blowers that distribute conditioned air one room or zone at a time.
Each condensing unit can support up to four wall blowers.
Ductless air systems provide warm and cool air for your family's year-round indoor comfort. Or, use yours for AC only as many of our customers do. But at least you have that option.
And there's the flexibility angles. Use your ductless air system to heat and cool your entire home or, perhaps, one or more rooms that your central heating and air systems can't reach.
Each zone has its own thermostat to help control your energy costs.
Each wall blower features convenient remote-control operation.
With no leaky ducts to worry about, you can save up to 30% and more on your home heating and cooling costs when you switch to ductless air.
There's more to like about a ductless air system from Nero Heating & Air Conditioning. Why not contact us today to schedule a free in-home comfort evaluation and together, we'll determine what type of heating and cooling system best suits your needs, home and budget.